Susan and Michael's Story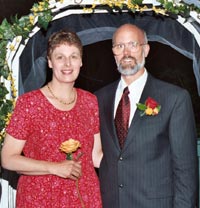 I "met" my husband Michael over the internet in August 1998. We had similar circumstances in our lives. We were both in our 40's and had been divorced from our first spouses in the early 90's. I had two sons in their late teens, Michael had three children, about the same age as mine. We were both active Bahá'ís. Michael was serving on an LSA. And we had both joined the Bahá'í Singles internet forum within a few weeks of each other, both ready to meet someone special and get married. When Michael posted information about himself, I emailed him, and we emailed back and forth for a few weeks, then decided to talk on the phone. Our first phone conversation was a bit strange - Michael had written something on race unity, and he wanted my help in editing it. So the first time I'm talking to him and I'm criticizing his writing! (hopefully in a helpful way). It turned out he wanted to see how honest I would be with him, so I guess I did okay!!
I must say Michael and I really hit it off from the beginning. We emailed daily, and talked more and more on the phone. After two months of that, I flew out to Indiana to meet him (I was in Connecticut). I came loaded with gourmet chocolate - for him, his kids and his mom. I got to meet everyone that first weekend. (no stress there!!) And I met many of the area Bahá'ís, who all had wonderful things to say about him. Our first real "date" was a visit to the House of Worship in Wilmette. Very special, and the place where my parents had met. We had a great weekend. Michael was really wonderful, and we were both excited about our new relationship. It sounds strange, but I think we would both say we were "in love" before we even met that first time. (I hope my family and friends don't remember how I was acting like quite the giddy teenager during that time). Of course, we all know that being "in love" is only a beginning, that Bahá'í courtship involves getting to know one another's character and assessing long term compatibility.
I'm not sure I would recommend a long-distance courtship to anyone, but for me I really wanted to marry a Bahá'í, and I hadn't found anyone in the Northeast. It was clear from the beginning that if things worked out between us, then Michael was willing to move. I had an established business and family obligations. A month after our first meeting, Michael flew out to see me for Thanksgiving weekend. He got to meet my parents (who were both Bahá'ís) - more importantly they got to meet him. I'm afraid I was making them a little nervous with this whirlwind romance. And I had a brunch to introduce Michael to my Bahá'í friends, who checked him out and approved of him. Of course he made home made cinnamon rolls for them! (I should mention here that Michael is a wonderful cook, and loves to cook, and I love to have him cook!!)
So, over the next several months the courtship continued. Each month one of us would fly to visit the other for a long weekend. In our time apart, we would talk on the phone every day (sometimes 5 times a day). The phone bills were frightening, (I had the word "bad" here, but Michael just changed it to "frightening"), but the calls were really necessary. We also deepened over the phone. We picked a Bahá'í book, would read a chapter or two during the day, then discuss it at night on the phone. It was great!! I suggested to read the marriage compilation for our first book. Michael told me later that that was pretty gutsy of me. I told him I was in my 40's and didn't have time to fool around with someone who wasn't serious about marriage. We also read Advent of Divine Justice, Created Rich (Bahá'í book on financial matters), Advancement of Women, and a few others. We also sent cards to each other daily. (Hard to imagine we had anything left to say in a card after 5 phone calls each day!) (Thank you Hallmark for 99 cent cards!!) And periodically Michael would send me red roses. That was pretty wonderful (he still gives me flowers after 6 years of marriage, too.)
After a few months of this long-distance courtship, we both knew we would get married. As spring 1999 approached, we looked forward to the summer for Michael to move to Connecticut and we would get married. We picked a wedding date, and then counted backwards 95 days and called our parents on that day to ask for consent. By then my parents had gotten to know Michael and they were happy to say yes. Michael's mom was happy too, although she did mention that I was taking her son away. I think all our children were okay with our decision. Mine were beginning college and Michael's oldest two were working and would stay in Indiana. Michael's youngest son who would be starting high school would move to CT with him. Since we had gotten engaged over the phone, when Michael next visited Memorial Day weekend, 1999, we did it officially. He got down on one knee and proposed, and gave me a beautiful diamond ring!
Michael and I got married in August 1999, almost 1 year to the day from when we first "met" on the internet. Looking back, that doesn't seem like a long enough courtship, seeing as we maybe had about three weeks of actual time "together". I think the fact that we were both in our 40's and knew exactly what qualities we were looking for was helpful. Before joining Bahá'í Singles I had actually made up a list of qualities I was looking for in a prospective husband, with a check-mark next to the ones that were really essential. Michael had those qualities that were important to me. (I didn't have "good cook" on the list - that was an added bonus.) So, that's the story of our long-distance courtship. We don't miss the plane trips, the expensive phone bills, and the time apart. But all the effort was worth it. We have a wonderful marriage, loving and supportive, and a happy Bahá'í centered home. In the summer we will be going on pilgrimage together, a goal we set when we got married.
It's been good to share our story with you. I hope other Bahá'ís can use this site to find each other and start wonderful lives together.
Susan Dutton
Connecticut, USA
There are 0 registered user(s) online and 3 guest(s) online.
For Reflection...
"The true marriage of Bahá'í is this, that husband and wife should be united both physically and spiritually, that they may ever improve the spiritual life of each other, and may enjoy everlasting unity throughout all the worlds of God. This is Bahá'í marriage." - 'Abdu'l-Bahá (Selections from the Writings of 'Abdu'l-Bahá, p. 117)
Success stories
Marriage Preparation