Sara and Rob's Story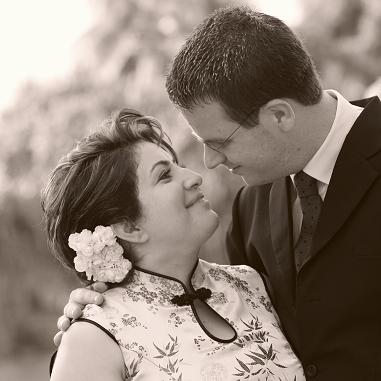 Can internet be a channel of love? Both of us would have would have say no. One can make new friends via the internet of course. But for falling in love one would really need to see each other in person.
A different thing happened, when we got to know each other. Through our MSN chats, on-line devotional meetings and deepenings, our video and voice contact over the internet, our hearts became connected and caught flame. Sometimes 4 to 5 hours a day we conversed, a good way of learning each other thoroughly. Being physically thousands miles away, spiritually we became very close.
After many days and seconds of impatience, January 17th, we finally met in Istanbul, Turkey. It seemed we already knew each other for ages. Two and half days later, having lunch at a nice bench in Edirne both of us felt it the right time to make a decision for life and beyond. Being on pilgrimage in Edirne, it was a privilege to ask for confirmations in the House of Baha'u'llah.
On 27th April, friends and family from around the world joined us in celebrating our wedding in Thailand. Coming from Netherlands & Iran, our wedding also became a sign of unity east & west.
It's almost one year when the first smile and message were sent among us via Twodoves. We both feel very much blessed and happy to be able to find each other. We wish all the best for twodoves team uniting people around the world.
Warmest Baha'i greetings Sara & Rob
There are 2 registered user(s) online and 6 guest(s) online.
For Reflection...
"The true marriage of Bahá'í is this, that husband and wife should be united both physically and spiritually, that they may ever improve the spiritual life of each other, and may enjoy everlasting unity throughout all the worlds of God. This is Bahá'í marriage." - 'Abdu'l-Bahá (Selections from the Writings of 'Abdu'l-Bahá, p. 117)
Success stories
Marriage Preparation